Model 800 HSSI (SCSI-2) Interface Breakout Box
Small Computer System Interface (SCSI)
High Speed Serial Interface (HSSI)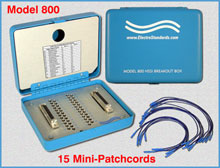 The Model 800 HSSI (SCSI-2) Interface Breakout Box is a tool designed for use to monitor all signals of the SCSI-2 interface. It is simply inserted in series between SCSI interface devices to provide access to and monitoring of all data, timing, and control signals. Fifteen one-foot mini patchcords that plug into the test points on the box are provided to facilitate access to signals passing through between connected devices.
There are fifty numbered test points on the unit. They are connected directly to the 50 pins of both HSSI / SCSI-2 connectors. The test points serve as access points for signals that are being passed between connected devices. The mini patchcords allow easy access to the corresponding connector pin, which can in turn be connected to a scope probe, data analyzer, voltage meter or other diagnostic instrument!
Features:
Connect in series with interconnected SCSI interface devices.
Input/output connectors are female 50-Pin SCSI-2 (Mini-50).
Test points for all 50 connector pins.
Ample supply of mini-patchcords.
Rugged aluminum case with sturdy metal hinge and latch.
Lightweight and pocket-sized.
Compact size: 4.0" x 5.25" x 1.75". (10.2 x 13.3 x 4.4 cm)
HSSI: High Speed Serial Interface
HSSI is a short distance communications interface that is commonly used to interconnect routing and switching devices on local area networks with the higher speed lines of wide area networks.
SCSI: Small Computer System Interface
SCSI is a hardware interface that allows for the connection of up to 15 peripheral devices to a single PCI board called a "SCSI host adapter". SCSI uses a bus structure and functions like a mini-LAN connecting 16 devices, with the host adapter counting as one device. SCSI allows any two devices to communicate at one time (host to peripheral, peripheral to peripheral).
MODEL 800 MONITOR AND TEST APPLICATION: The drawing illustrates Daisy-Chained SCSI-2 peripherals, HSSI devices connected to the Model 800 HSSI (SCSI-2) Interface Breakout box.

SCSI-2 Cable
Both ends of the cable use a 50-Pin male plug which can plug directly into the Model 800 (SCSI-2) HSSI Breakout Box
Male 50-Pin cable end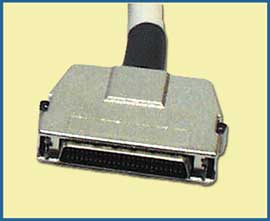 SCSI-2 Sockets
The sockets on the typical host adapter and devices are 50-Pin female.
Female 50-Pin SCSI-2


This product is also featured on Electronics Manufacturers website.
*Prices online are subject to change and verification.
All ESL breakout boxes are available for export.