Model 600 "Blue Box" Breakout Box EIA RS-232 Interface Analyzer
Red LED's simultaneously display polarity, activity and validity of key interface Signals!
Easy testing of computer's serial data interface.
Compatible with EIA RS232, CCITT V.24, and MIL-188C.
Easy determination of proper data cable design.
Lightweight, pocket-sized and battery powered.
Virtually indestructable aluminum case with metal hinge and latch.
The breakout box of choice for computer room field service.
Lifetime Warranty against manufacturing defects!
FEATURES:
Easily inserted in series between DTE (Data Terminal Equipment) and DCE (Data Com Equipment).
50 Test points to access all 25 pins of both DCE and DTE connector.
Test synchronous or asynchronous modems, terminals and multiplexers.
24 mini-switches provide capability to program each signal for make or break.
Displays all modem & terminal interface signals.
Separate EIA cable facilitates use at either modem or terminal end.
Full-duplex and half-duplex monitoring.

On GSA Schedule!
DESCRIPTION:
The Model 600 EIA RS-232 Interface Analyzer is used at the standard EIA RS-232 or CCITT V.24 data interface of modems, multiplexers, terminals, and computers. Model 600 provides access to and monitoring of all data, timing, and control signals.
The Model 600 utilizes light emitting diodes (LEDs) to display polarity, activity, and validity of all interface signals. The battery-powered LEDs are buffered to prevent loading of the data interface. Miniature rocker switches allow the user to program 'make' or 'break' for each signal at the DCE/DTE interface. Continuous positive and negative voltages are conveniently available on the test points and can simulate handshaking or data signals. An ample supply of mini-patchcords provide for cross-patching or loopback patching of signals at the front panel test point array.
A complete table of EIA/CCITT standard interface signal description is provided inside the unit for ready reference during testing. A covered compartment provides secure storage for mini-patchcords and an EIA ribbon cable.
SPECIFICATIONS:
Input Signal: +/-25 volts per EIA RS-232

More positive than +2.5 volt for ON indication.

LED Circuit Input Impedance: Exceeds 30K ohms.
Operating Temperature: 0°C to 50°C.
Storage Temperature: -20°C to 90°C
Humidity: 10% to 90% without condensation.
Size: 4.0 x 5.25 x 1.75 inches (10.16 x 13.33 x 4.45 cm)
Weight: 15 ounces (426 grams)
Power: Four 1.5V, size AA batteries
Display: 15 high-efficiency red indicators
Test Points: 50 test points provide access to all 25 pins on both the DCE and DTE connector, 1 to access test LEDs and 2 to provide continuous positive and negative test voltages.
Switches: 24 mini-rocker switches for ON/OFF control of signals passing through between DCE and DTE connectors.
I/O Connectors: To DCE, a 25-pin EIA socket. To DTE, a 25-pin EIA plug.
Cables and Patchcords: One 10" M/F EIA ribbon cable for connection to DCE or DTE. Three single (1-to-1) patchcords and one triple (3-to-1) patchcord for use with test points.
EIA/CCITT Modem-Terminal Interface Label: Attached to upper panel. Describes relationship between EIA, CCITT, Signal Nomenclature, and Signal Source.
Packaging: Aluminum case, metal hinge and clasp. Storage compartment for cable and mini-patchcords.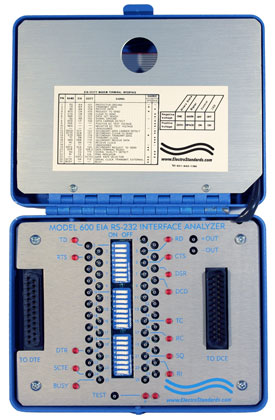 LED INDICATORS:
The Model 600's high-efficiency LEDs clearly indicate the status of key signals at the EIA/CCITT data interface. For regularly monitored signals, a SPACE condition is signified by a red indication. A MARK condition is signified by an OFF indication. An improper signal level (between +3 volts and -3 volts) or an open circuit is also displayed as an OFF indication. Active clock signals result in an alternating on and off indication that is directly relateld to the clock duty cycle.
For signals monitored via the TEST pin, a pair of LEDs is used to indicate valid EIA/CCITT voltage levels. A SPACE condition is signified by a red indication from the POS LED. A MARK condition is signified by a red indication for the NEG LED. An improper signal level (between +3 volts and -3 volts) or an open circuit is indicated by a simultaneous OFF condition from both the POS and the NEG LEDs.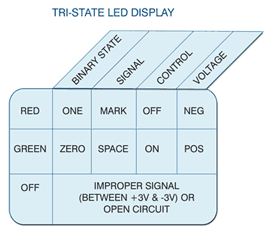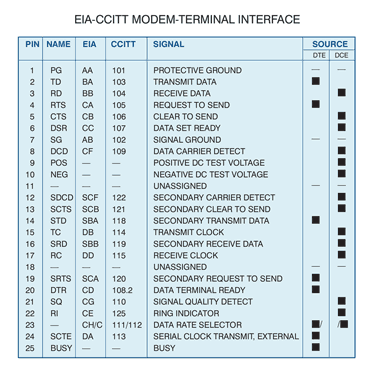 Model 600 is available to government purchasers on our GSA Schedule GS-35F-0286V. Call for discounted price and terms.
*Prices for breakout boxes online are subject to change and verification.
All ESL products are available for export.