Path Way® Remotely Controllable Network Switch, DB25 RS530
Model 7175 Single Channel

RS530

DB25 A/B Switch, with

Exclusive

Contact Closure Remote,

24VDC Power
Ideal for device-sharing applications; Applicable to any DB25 interface devices.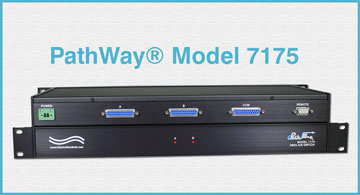 SPECIFICATIONS:
PORT CONNECTORS:
(3) DB25(F) port connectors labeled A, B and COMMON on rear panel.
REMOTE CONTROL: (1) DB9 (F) REMOTE connector on rear panel allows remote switch control via contact closure.
DISPLAY: (2) LED's indicate switch state and power presence.
POWER: Requires customer supplied 24 VDC, 500 mA Power Input. A mating power connector is included with the Model 7175.
DIMENSIONS: Rackmount 19.0" W x 1.75" H x 8.21" D (1U rack height) (48.3 x 4.5 x 20.9 cm)
WEIGHT: Approximately 4.5 lbs (2.1 kg)
DB25 A/B SWITCH APPLICATION w/EXCLUSIVE REMOTE CONTROL: The drawing illustrates a single Channel DB25 A/B Switch. A COMMON device is connected to the DB25 female COMMON port with access to Device A or Device B, connected to the DB25 female ports A and B respectively. An exclusive DB9 REMOTE port is used to control the unit via contact closure signaling.

FEATURES:
Allows quick connection to any one of two DB25 devices from one COMMON device.

All (25) pins of the DB25 RS530 interface connector are switched via break-before-make electromechanical relays.

A, B, and COMMON are DB25 female port connectors.

Eliminates the need to plug and unplug cables.

The switch ports are transparent to all data.

Ideal for

"remote control only"

applications.
There is no local control on the Model 7175.

Remote Contact Closure control provides dry contact logic to allow the control of the switch position.

Front panel LED's display switch position and power status.

The unit maintains last set position on power loss and continues to pass data.

Upon power up, unit switches based on the state of contact closure.

Requires customer supplied 24 VDC, 500mA power input.

For a similar unit with Wide Range power supply, see PathWay® Model 7274, Cat No 307274.
For a similar unit with 24 VDC power with front panel control, see PathWay® Model 7174, Cat No 307174.

Attractive all metal black box packaging provides EMI/RFI shielding.

Custom length DB25 cables available for your switch installation.
The PathWay® Model 7175 Single Channel DB25 RS530 A/B Switch with Contact Closure Remote allows a device connected to the "COM" port access to the "A" or "B" port. The Model 7175 is enclosed in a 1U, full rack size, all metal black chassis designed to provide EMI/RFI shielding and fit in a standard 19" rack.
There is no "local" or front panel switch controls on the unit. The Model 7175 can ONLY be switched remotely via the DB9 Remote port located on the rear panel. The front panel LED display indicates the switch position and unit power status.
Ask about our popular Model 900 EIA/TIA RS-530 Interface Analyzer.
Tri-State LED's display Red, Green & Off to Indicate Signal Status.
Easy to use, for fault isolation.
TO READ THE ARTICLE: "ADVANCES IN NETWORK SWITCHES", click link to read as a pdf. You need Acrobat Reader to view this file.
Electro Standards can supply all of your Network Cable requirements. Click here to reach our CABLES, COPPER NETWORK Webpage.
For custom network switches call our friendly customer support staff at 401-943-1164, email eslab@electrostandards.com, or complete our online form: /Products-Custom/Copper-Switch/
All data switches, data communication products, and data acquisition products are subject to a one year warranty against manufacturing defects. The limit of ESL liability is limited to the cost of the ESL product provided.
Pathway® is a registered trademark of Electro Standards Laboratories.
All ESL products are available for export.
Electro Standards welcomes International inquiries: commutateur de données, interruptor de datos, dati interruttore, Przełącznik danych, comutador de dados.
Electro Standards' products are integrated into systems worldwide, including but not limited to:
Australia, Canada, Chile, Denmark, France, Germany, Greece, Israel, New Zealand, Philippines, Puerto Rico, Romania, Singapore, South Korea, South Africa, Spain, Switzerland, Thailand, The Netherlands, UAE, UK.

*Prices online are subject to change and verification.