Energy

ActionSystem

Model 3312-6C Air Cooled Lithium Ion Capacitor Development Shelf, Cat#331206C
Available as an option to any LiC Development Shelf having 2, 3, 4, 5, or 6 Modules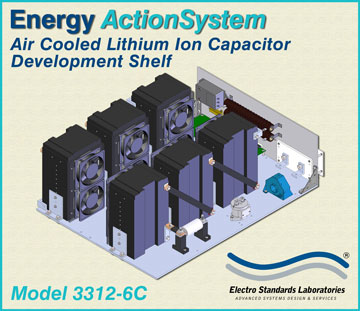 Electro Standards Laboratories has expanded its series of Energy ActionSystem Lithium Ion Capacitor Development Shelves to include units with air cooling. Model 3312-6C, Cat. No. 331206C, Air-Cooled Lithium Ion Super Capacitor (LiC) Development Shelf, as shown below, includes active cooling fans for each of six LiC Modules. The LiC modules can be connected in series and the shelf can include a protection fuse, contactor for computer controlled isolation, current sensor, voltage sensor, and over/under voltage board for monitoring faults from the Master Controller and aiding in protecting the LiC stack. This shelf can be stacked with additional LiC shelves connected in series for higher voltages and/or parallel for higher currents. The shelf is designed to fit into a commercially available vented rack or a vented enclosure can be added to it for bench top applications.
The LiC Development Shelf series includes a wide variety of variations such as:
Number of Modules per Shelf

Total Capacitance per Shelf

Number of Cells per Module

Total Shelf Voltage
The shelf product series is designed to save time, effort, and development costs associated with operating and testing LiC energy systems. See "Related Products" tab for more of the LiC Development Shelf series.
LiC Supercapacitor systems are ideal for applications that require bidirectional high power pulses, very low leakage, very high cycle life, and exceptional energy density.
Custom Lithium Ion Capacitor Development Shelf Configurations are available to meet your application requirements.