CellMite® ProD Ruggedized High Performance Embedded Data Acquisition and Sensor Monitoring Node
Powerful load cell electronics!

Ideal for high traffic network applications. Has extended buffering.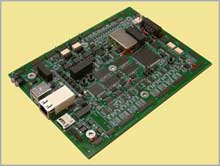 The CellMite® ProD Model 4349 is a high performance data acquisition and sensor monitoring module from Electro Standards Laboratories that is suitable for embedded applications that require a ruggedized high speed analog and digital data acquisition unit that is accessible via an Ethernet network.
The Model 4349 creates both a low speed monitoring data stream and a high speed transient event data stream that are designed to measure and report both static and pulsed sensor events. Typical sensors can include load cells, temperature sensors, strain gages, general analog outputs, voltages, currents, pulse counting, and digital contacts. Complex systems can be monitored by using a multitude of CellMite® ProD Model 4349 boards as Ethernet monitoring nodes within an Ethernet network.
The CellMite® ProD features 11 channels of 12-bit analog inputs that can be sampled up to 10,000 samples/second. Digital data acquisition is also supported with 64-bits of simultaneously sampled digital inputs, 4-bits of isolated digital inputs, and 3 digital counter inputs that are also sampled at up to 10,000 samples/second. The high sampling rates make the Model 4349 perfect for recording important sensor data from transient applications such as pulsed power systems.
Direct PC or network communication is supported by a 10/100 BaseT Ethernet data channel with user selectable event and monitor data packet size in order to minimize network congestion. The communication channels are optically isolated in order to minimize system ground loops. For applications requiring on-board data storage, the CellMite® ProD features 750K Words of onboard memory that can be used to buffer transient event data. The CellMite® ProD features a wide input voltage range of 19VDC-36VDC, along with 3kVDC isolation. The CellMite® ProD is designed for ruggedized applications and is designed to operate from -40C to +85C.
Applications include:
High speed data logging
Recording pulsed sensor events
Multiple data stream monitoring
Multi-rate & mixed signal data recording
Recording transient data triggered by events
Specifications:
Analog Signal Inputs:
Analog Input: Very high impedance differential
Input Range: +/-10V
Resolution: 12-bits
Number of Channels: 11
Max. Sampling Rate: 10,000 samples/second, all channels
Digital Signal Inputs:
Input Type: Logic, TTL, and HC compatible with hysteresis
Number of Channels: 64 bits, simultaneously sampled
Max. Sampling Rate: 10,000 samples/second
Digital Counter Inputs:
Excitation: 5 VDC
Interface: Single ended TTL, compatible
Type: Pulse
Channels: 3
Resolution: 8 bits
Digital Isolated Inputs:
Type: Optically Isolated
Channels: 4
Digital Trigger Input:
Type: Digital Trigger
Source: Any digital input
Input Power:
Range: 19VDC-36VDC, std, 4.5VDC-9VDC, Others
Power: 8.5W (Ex. 300 mA at 28 VDC)
Indicators:
Mechanical:
Size: 7.5" x 5.5" x 1"
Mounting: 7 mounting holes
Signal Connectors: 2mm ribbon
Environment: Operating -40ºC to +85ºC
Communication Interface:
Interface Type: 10/100 Base-T Ethernet with flow control
Isolation: Optical
Monitor Data Format (Continuous Monitoring)
Data Packet: Selectable to 20 bytes
Data Packet Rate: 0.1 Hz to 10 Hz
Data Stream Type: Data Push (continuous monitoring)
Data Content: User Specified Analog, Digital, Counter data
Event Data Format (Transient Event Monitoring):
Data Packet: Selectable to 20 bytes
Data Sample Rate: 10 Hz to 10,000 Hz
Transmit Packet Size: Selectable
Data Stream Type: Triggered Data Push/ Data Pull
Data Content: User Specified Analog, Digital, Counter data
Buffered Data Storage: 750K Words
Ordering:
Model/Catalog No. 4349/304349
This high-quality network switch is available to city, state, and federal government purchasers at a discounted price and favorable payment and shipping terms via GSA Schedule GS-35F-0286V. Click here or on GSA icon for details.
Model 4349 CellMite ProD block diagram shown below: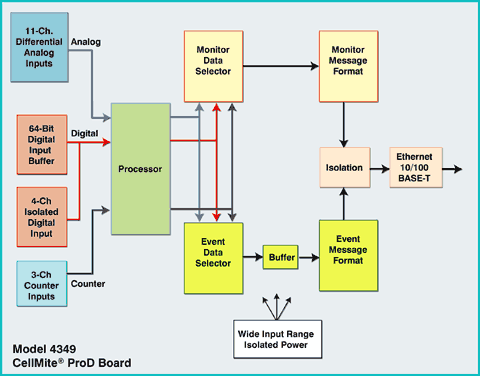 Model 4349 CellMite ProD typical application shown below: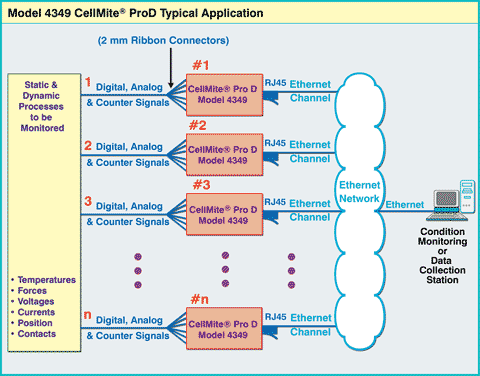 * Ideal for Commercial Off-the-Shelf (COTS) Application!
Municipalities, schools, government: On GSA Schedule!
Check out our complete line of CellMite® Intelligent Digital Signal Conditioners!
Click below to read a related article:
"How to Make Your Own Plug and Play Load Cell System and Eliminate Costly User Errors"
All data switches, data communication products, and data acquisition products are subject to a one year warranty against manufacturing defects. The limit of ESL liability is limited to the cost of the ESL product provided.
*Prices online are subject to change and verification.
All ESL products are available for export.