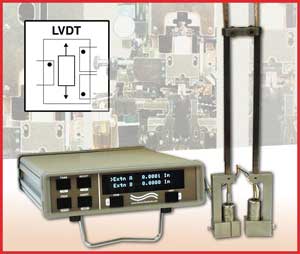 Model 4215-L / LVDT Smart Indicator
Model 4215-L LVDT Indicator is an intelligent microprocessor-based instrument designed for the measurement and control of dual channel LVDT (Linear Variable Differential Transformer) measurement fixtures. It combines two simultaneous sample LVDT channels, print capabilities and RS232/485 serial communication into a versatile platform that can be customized to deliver the most powerful and affordable instrumentation in its class.
The ESL Model 4215-L Advanced Digital LVDT Meter provides all excitation and signal conditioning necessary to operate dual LVDT expansion measurement fixtures. The average extension is computed automatically and displayed. The ESL Advanced Digital LVDT Meter also features analog outputs, limit switching, individual unit conversion and a two-line display. Factory options support mixing and matching of strain gauge and LVDT sensor inputs.
Whether you are upgrading an existing system or implementing a new one, the Model 4215-L brings you the accuracy, reliability and repeatability needed to meet the most demanding applications.
Features:
Fully Bipolar Range +/-999,999 Display
24-Bit Resolution
Linearity 0.05%
Two channel Simultaneous read
2-line X 20-character vacuum fluorescent display
Plug and Play TEDS-TagŪ Auto LVDT Identification
User input text label on second line of display
Auto Setup for 25 Model 4215-L units
Functions Included: peak / valley / hold / tracking / peak reset
Quad Limits Output: independent, isolated solid state relays control AC or DC signals
Six user-selectable filters
Tri-state limit display: on, off, disabled
Automatic display unit conversion: in, cm, %
D/A Output: +/-10V std; +/-5V, 0-5V, 0-10V std. Per Request
Direct analog amplifier output
RS485 std. upon request
Full operation and calibration via RS232
5-point linearization
Includes sum, difference, average of two channels
Available Features:
4 - 20 mA output
Rugged carry handle
Custom-programmed math functions & algorithms
Communicate with upt to 254 Model 4215-L units on a single serial communication bus!
DC strain gage channel (s)
Quadrature encoder channel (s)
Standard unit is dataView-LVDT Ready for graphical user interface and connection to PC.
dataView-LVDT software operates at full speed for single and dual-channel real time data acquisition.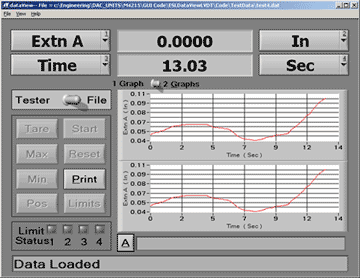 APPLICATION NOTE: How to make your own Plug and Play Load Cell System!
Order Cat No 501574, TEDS-TagŪ ID Component to make your Plug and Play Load Cell System!
All data switches, data communication products, and data acquisition products are subject to a one year warranty against manufacturing defects. The limit of ESL liability is limited to the cost of the ESL product provided.
*Prices online are subject to change and verification.
All ESL products are available for export.