Model 8008 Modem Security Bracket Kit
Protects modems that are installed in guest hotel
rooms to provide internet service.
Locks in the data cables to prevent theft.
The Model 8008 Modem Security Bracket Kit is designed to accommodate
a variety of modems. It captivates the modem, its coax cable, and its modular
computer cable, preventing theft of the equipment. The coax cable and modular
computer cable are secured in place within the bracket utilizing standard tie-wraps.
The V-bracket holds the modular data cable at desktop for easy access by guest.
It is designed as a paperweight with the networking cable attached and provides
printed instructions of how to plug into the internet.
The kit also includes a Modular Computer Cable and a Coax Data Cable. Standard
cable length is 15 feet. Custom lengths are available.

The Model 8008 Modem Security Bracket Kit Contains:
| | | |
| --- | --- | --- |
| Qty. | Catalog No. | Description |
| 1 | 511440 | Modem Bracket ( holds customer supplied modem) |
| 1 | 511662 | V-Bracket Assembly (holds modular data cable) |
| 1 | 511851 | 15-ft. Coax RG-6 F-Type Connectors |
| 1 | 990329-010 | 10-ft. Data Patch Cable, RJ-45 CAT5e, Blue |
Application and Installation
The Model 8008 Modem Security Bracket has typical overall dimensions of
8.5" W x 3" H x 9.75" D. It is designed to mount on the underside of desktops,
shelves, or tables. It is secured to the underside surface by four screws through
tabs on the corners of the bracket.
NEED A CUSTOM DESIGNED KIT FOR YOUR MODEL MODEM?
Although the Modem Security Bracket is designed to accommodate
a wide variety of modems, it is requested that you supply spec sheet
having mechanical dimensions or make and model of the modem to
be protected.
Custom cable lengths and a variety of cable colors are available.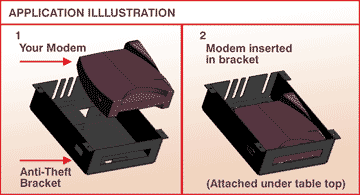 OnLine prices are subject to change and verification.
All ESL products are available for export.