Model 9214 Module Rack Feedthrough Patch Panel with Four RJ45/RJ45 Cat5e Ports
Catalog No. 309214
FEATURES:
Provides four ports of RJ45 Cat5e feedthrough.

The feedthrough connections are of high quality to withstand numerous install/remove cycles Ethernet cables from the front side.

Certified for Cat5e.

Quickly, easily intall in Model 9025 Rackmount Chassis along with switch modules and filler panels.

Attractive brushed aluminum finish.

Lifetime warranty against manufacturing defects.
SPECIFICATIONS
PORT CONNECTORS: (4) RJ45/RJ45 Cat5e (F/F) feedthrough connectors.
DIMENSIONS: Module 4.0"W x 5.25" H.
APPLICATION: For use with Model 9025, Cat No 305972 Rackmount Chassis.
Model 9214 (P/N 309214) RJ45/RJ45 Feedthrough Patch Panel is designed to mount in the Model 9025, Cat. No. 305972 Rackmount Chassis. It occupies 4.0 inches of panel width and provides four feedthrough RJ45 ports.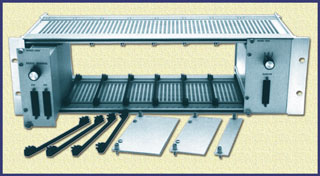 Model 9025 Rack Chassis illustrated with other switch modules is 16.8" W. (42.7 cm)
*Prices online are subject to change and verification.