SCUPS®
Model 1027 SuperCapacitor Uninterruptible Power Supply
Provides critical power backup for remote locations.
Recognized for significant advantages over battery UPS systems.
Low Maintenance, Long Life Service, Wide Temperature Range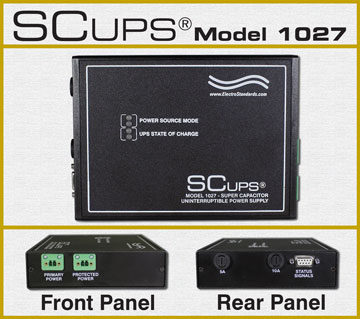 The SCUPS® Model 1027 SuperCapacitor Uninterruptible Power Supply is designed to provide backup DC power to a nominal 12VDC system in the event that the primary power supply is interrupted. Loss of the primary power supply is automatically detected and DC power is then supplied from the SCUPS®. Once the primary power is restored, it is routed to the load and used to recharge the super capacitor in the SCUPS®.
The use of the SuperCapacitor for energy storage provides a very low maintenance solution with extremely high cycle life and without the shelf life concerns of the typical battery backup systems.
The SCUPS® is perfect for low power remote systems where primary power can be interrupted. Typical applications include remote locations with intermittent grid power or renewable energy systems such as solar powered systems. The SCUPS® Model 1027 is easily integrated into user equipment or can be supplied in a standalone package.
SPECIFICATIONS:
Max Power to Load:

Max Primary Load Voltage:

Voltage during Hold up:

Hold Up Time:

14 minutes with 1A Load

29 minutes with 0.5A Load

Full Recharge Time:

103 minutes from full discharge to full charge

Min. Recharge Time:

37 minutes from full discharge (nominal times at 22°C)

Energy Storage:

Lithium Ion SuperCapacitor

Status Signals:

Digital: 2-State of Charge, Primary-ON, Backup-ON

Temperature:

Dimensions:

7.760" x 5.550" x 1.550" (includes SuperCapacitor)

Weight:

1.8 lb (includes SuperCapacitor)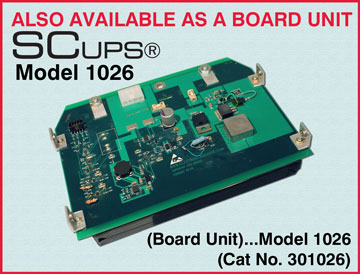 Detailed User Manual Included with SCUP® Model 1027 and Model 1026.
Table of Contents
Introduction

Figure 1: Block diagram of ESL SuperCapacitor-based UPS unit.
Caution

UPS Integration Wiring Diagram Figure 2; UPS integration wiring diagram

Power Connector

Activating the UPS

Deactivating the UPS

UPS System Operations

Figure 3: SuperCapacitor state of charge during UPS system discharge/charge cycle.




Figure 4: Voltage applied to load durng a primary voltage supply fault event.




Adjusting UPS Output Voltage Level

Hardware Specifications

Performance Specifications

UPS Discharge Characteristics

Figure 5: ESL UPS Energy Discharge Operating Envelope for Current System Release.




Figure 6: UPS system discharge time and state of discharge with 500 mA load for different voltages.




Figure 7: UPS system discharge time and state of discharge at 1000 mA load for different load voltages.





UPS Charge Characteristics.

Figure 8: Charge versus state of charge





UPS Circuit Board Description

Digital Signal Pin out

Digital Output Component Specifications

Specifications

Important Notices

Agreement not to Analyze or Reverse Engineer

SAFETY INFORMATION: Advisement to Read and Understand Lithium Ion Capacitor Operational Manual

Covering Safety Issues

Limit of Liability
All ESL products are available for export.
All data switches, fiber optic interface converters, data communication products, and data acquisition products are subject to a one year warranty against manufacturing defects. The limit of ESL liability is limited to the cost of the ESL product provided.
*Prices of online are subject to change and verification.