Fiber 485®
Model 4127 HP Versalink Fiber to RS485 Interface Converter
Allows Connection of HP Fiber Optic Linked Terminals to RS485 Port of Controller
Provides Electrical-to-Optical, Optical-to-Electrical Conversion
Ideal for Casino Networks linking Video Lottery Terminals & Video Gaming Machines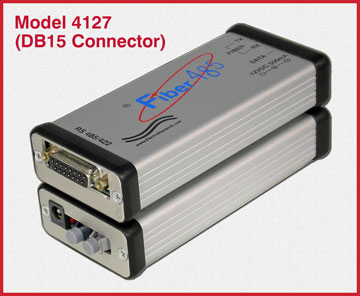 HP Fiber to RS485 Converters Specifications:
Fiber Transmission Distance: 75m (250 ft.) using TC 1000 W type plastic fiber cable.
RS485/422 Transmission Distance: Greater than 300 m (1000 ft.).
Optical Fiber Connectors: HP/Agilent Versatile Link
RS485/RS422 Connector:

DB15 Female on Model 4127,
RJ45 Female on Model 4129.

Optical Cable Type: 1mm plastic optical film.
Optical Wavelength: 660 nm (red).
External Power Supply: 120 VAC, 60 Hz.
Dimensions: 5.5" x 2.25" x 1.0" (139mm x 57mm x 25mm).
Weight: 0.5 lb. (226 grams).
Status Display: Red LED.
The RS485 / HP Versalink Fiber Interface Converters are used to connect fiber optic linked Video Lottery Terminals to a controller having an RS-485/RS-422 interface port. While RS485 is a versatile communication standard, able to communicate over long distances and at fast data rates, conversion to a fiber optic communication standard also allows data transmission that is no longer susceptible to electrostatic or electromagnetic fields. Additionally, the ports of the connected terminals are protected from damage by potential differences (ground variations) that often exist between them.
HP FIBER / RS 485 CONVERTER APPLICATION FOR CASINO NETWORKS LINKING VIDEO LOTTERY TERMINALS & VIDEO GAMING MACHINES. The illustration shows a Controller connected to the Model 4127 DB15 port and Video Gaming Machines linked to the HP/Agilent Versatile Link connectors via HP Versatile Link Plastic Core Cables.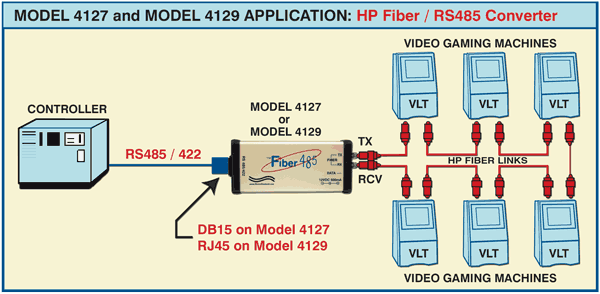 HP Fiber to RS485 Converter Features:
RS-485 / RS-422 connection via a DB15 connector.
Converts RS485/RS422 Serial Communication Interface to HP Versatile Link plastic core cable.
Copper interface features ESD and Transient Voltage protection.
ESL's Fiber Optic Interface Converters provide full galvanic isolation (no metallic connection) between connected devices.
Full duplex connection between HP Versatile Link fiber optic interface device or network and an RS485 interface device.
Allows the interference-free fiber optical transfer of data to be utilized by the device having an RS485/RS422 interface.
Data transfer rate up to 1 Mbps.
Fiber connections via two standard Versatile Link connectors.
Configurable for use at DCE or DTE (specify with order).
Maximum Link Distance: greater than 500 meters (1640 feet) with 2.00 mm Hard Clad Silicon fiber cable.
Provided with external wall-mount power supply, UL approved.
Fiber Optic Converters are Ideal for casino data networks.
Municipalities, schools, government: This product is on GSA Schedule!
RS485 / 422 Signals
Model 4127
Model 4129
Signal
Signal Direction

DB15 Pin#

RJ45 Pin#
4
4
RX+
← IN
11
6
RX-
← IN
2
1
TX+
→ OUT
9
7
TX-
→ OUT
7
5
REF/GND
Please review our Model 4129 (Cat No 304129) HP Versalink Fiber to RS-485/RS-422 converter that utilizes an RJ-45 connector.
HP VersaLink Plastic Core Cables are available from Electro Standards. See the Related Products Tab.
Please check out our HP VersaLink Plastic Core Cables and Interface Converters on our Related products tab.
HP VERSATILE LINK PLASTIC CORE CABLES
LENGTH
CATALOG NUMBER
10 FEET
986625-010
20 FEET
986625-020
30 FEET
986625-030
40 FEET
986625-040
Custom length HP Fiber Cables Available
Order: Catalog Number 986625 - Length (in feet)

This high-quality network switch is available to city, state, and federal government purchasers at a discounted price and favorable payment and shipping terms via GSA Schedule GS-35F-0286V. Click here or on GSA icon for details.

Models 4127/4129 specifications are translated into Cantonese below. To download the Cantonese spec sheet click here: Model 4127/4129 in Cantonese

光纤 485® 型号 4127 / 4129 惠普光纤/ RS485 转换器

• 可将惠普光纤终端连接入控制器RS485 的端口

•可提供电子信号转换至光学信号,也可以实现光学信号至电子信号的转换

型号 4127 / 4129 的应用

光纤485,惠普光纤 / RS485转换器可用作光纤

终端与控制器上的型号为RS485 /RS422的端

口的连接.端口RS485为通用标准,可远距且高

速转换至光纤通讯标准,同时也可以避免数据传

输过程中的静电和磁场干扰.另外,终端连接端

口还可免受经常发生的,由地球磁场轻微变化而

受到的损害.

光纤485 性能

• 型号4127: RS485 / RS422 通过 DB15 连接口 .

• 型号 4129: RS485 / RS422 通过RJ45 连接口 .

• 转换 RS485 / RS422 串行连接接口至惠普通用连接塑胶核心电缆

• 铜制接口可有效预防静电和瞬变电压干扰

• 连接设备之间保持绝缘

• 两设备间可以通过RS485/RS422 接口保持同时接收和发送 数据的

能力.

• 使用RS485/RS422 接口可保证光纤数据无干扰传输.

• 数据传输速率最高可达 1 Mbps(兆比特每秒).

• 光纤连接通过两个标准通用的连接口.

• 可配置使用在数据传输设备和数据传输终端(有特定顺序).

• 最大连接距离:使用2毫米硬包层石英光纤电缆传输距离可大于

500米(1640英尺)

• 提供外部壁挂式电源,已通过UL(美国保险商实验室)认证.

•光纤485®的技术参数:

• 光纤传输距离:75米(250英尺)使用TC1000

W型塑料光纤电缆。

• RS485/422传输距离:大于300米(1000英尺).

• 光纤连接器:惠普/安捷伦多功能链接

• RS485/RS422接口:DB15接口安装在4127型号,

RJ45接口安装在4129型号。

• 光缆类型:1毫米的塑料光学薄膜 .

• 光波长:660 nm(纳米)(红光)

• 外接电源:120伏,60赫兹。

• 尺寸:5.5"×2.25"×1.0"(139毫米x 57毫米x 25毫米).

• 重量:0.5磅。 (226克).

• 状态显示:红色LED(发光二极管).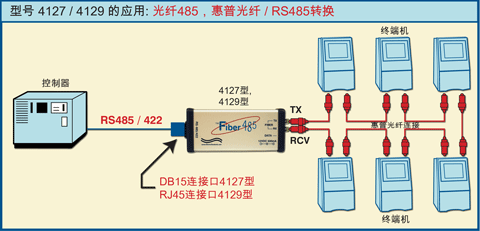 此文件已经由布莱恩特大学美中研究所暨孔子学院翻译
The Model 4127 (Cat No 304128) Fiber to RS422 Converter was featured on ThomasNet Industrial NewsRoom:
http://news.thomasnet.com/fullstory/481023
To view more of Electro Standards Fiber to RS422 Converters, click here: Fiber Optic Interface Converters
All data switches, data communication products, and data acquisition products are subject to a one year warranty against manufacturing defects. The limit of ESL liability is limited to the cost of the ESL product provided.

*Prices online are subject to change and verification.
All ESL products are available for export.