Model 4010 2-Channel RS232/RS485 Interface Converter, Asynchronous
Connects single-ended RS232 interface to double-ended RS485 interface.
Municipalities, schools, government: This product is on GSA Schedule!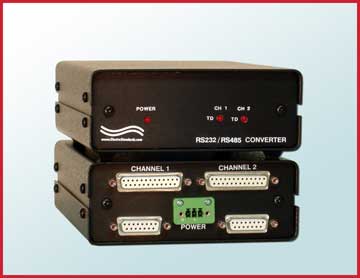 The Model 4010 RS232/RS485 Interface Converter allows communication between devices having RS232 and RS485 interfaces. The Model 4010 is a bi-directional device that converts RS232 level data signals to valid RS485 levels, and RS485 level data signals to valid RS232 levels.
Signals of both the RS232 and RS485 interfaces are regenerated which maintain accurate adherence to interface specifications. A wall mount power supply is included with the Model 4010.
SPECIFICATIONS:
Front Panel:
Signal Activity LEDs:

Two LED's display the transmit data (TD) signal activity for each Channel.

Power LED:

A single LED indicates when AC power is being supplied to the Model 4010
Rear Panel:
Data Interface:

Each of the RS232 interface ports is located on the rear panel of the unit and accessed via standard DB25 female connectors.
Each of the RS485 interface ports is located on the rear panel of the unit and accessed via standard DB15 female connectors.

Power Connector:

A 3-pin Phoenix connector located on the rear panel accepts the output power connector from the wallmount transformer.

Dimensions: 5.25" W x 2.35" H x 7.25" D.
(13.3 x 6.0 x 18.4 cm)
Weight: Approximately 2 lbs. (0.9 Kg)
Power: UL approved wall mount power module, 120 VAC, 60 Hz.
APPLICATION: The drawing illustrates two channels, each with a DB25 port and a DB15 port. Each channel can communicate between RS232 and RS485 interfaces.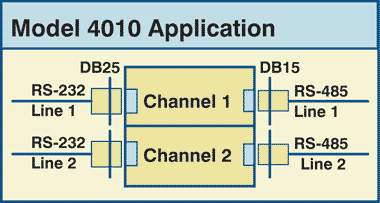 CONNECTOR PIN / SIGNAL REFERENCE
DB25 / RS232 and DB15 / RS485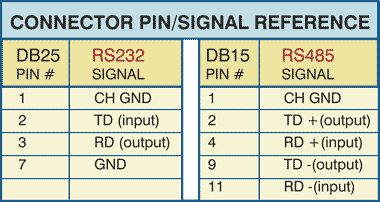 This high-quality network switch is available to city, state, and federal government purchasers at a discounted price and favorable payment and shipping terms via GSA Schedule GS-35F-0286V. Click GSA icon for details.
*Prices online are subject to change and verification.
All ESL products are available for export.
Electro Standards Laboratories manufactures custom copper and fiber optic network switches. Call 401-943-1164 to speak to a knowledgeable sales engineer, or email eslab@electrostandards.com, or complete our custom copper network switch or custom fiber optic network switch on-line form.