Interface Converters, TTL Logic-to-ST Fiber, Copper to Glass Fiber
Model 6765 Four Channel TTL Logic-to-ST Fiber Converter
Converts TTL Logic signals to ST Fiber Optic signals.

Model 6765 board is convenient for embedded applications.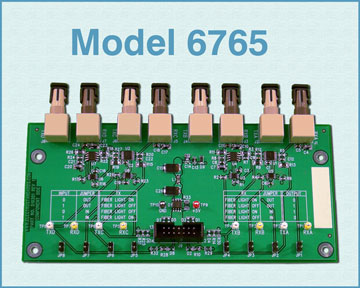 To view a Desktop version of this converter, click here or see Model 6766 on the Related Products tab.
Model 6765 Board Unit:
Copper/Glass Fiber Input/output Diagram:
TTL Logic Pair A, B, C and D convert signals to the ST Fiber Pair, A, B, C, and D.
Copper Interface: 14-Pin (0.1 x 0.1 Male Header)
Glass Fiber: ST, Multimode, 820 nm

Models 6765 Board Unit Four Channel TTL Logic-to-ST Fiber Converter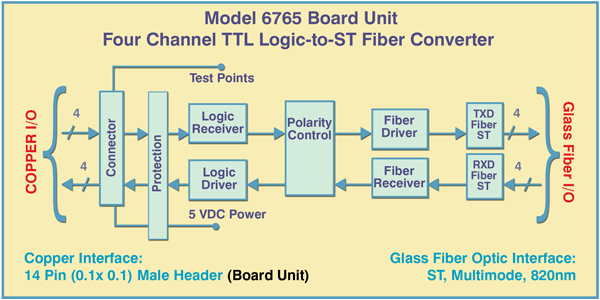 INTRODUCTION:
The Model 6765 is a high speed digital logic level to fiber interface converter from Electro Standards Laboratories. The Model 6765 translates four input/output TTL logic pairs into four ST Fiber Optic pairs, resulting in a total of eight fiber optic connections. Typical operating speeds are up to 5 Mbps.
Features include user selectable fiber light ON/OFF polarity, convenient ST fiber connectors, and logic test points available for signal monitoring.

The unit is powered by 5 VDC.

The power supply input is protected from overvoltage, overcurrent.

All TTL copper connections feature advanced ESD protection of ±8kV contact discharge, ±15kV air discharge, (IEC61000-4-2).

See Model 6766, Cat No 306766 for a desktop version of this board unit.
SPECIFICATIONS:
Optical Interface:

TX Power: -17 dBm

RX Sensitivity: -27.5 dBm

Wavelength: 820 nm, multimode

Fiber Size: Accepts 50/125 micron, 62.5/125 micron, or 100/140 micron

Fiber Polarity:

Logical 0 = Light ON/OFF: User Selectable via Jumper

Logical 1 = Light ON/OFF: User Selectable via Jumper

Copper Interface:

Type: TTL Logic

Vih range: (1.4 - 2.1)Vdc

Vil range: (0.6 - 1.4)Vdc

Bit Rate (nom.):
Operating Environment:
Model 6765, Cat. No. 306765 Board Unit:
Copper Connectors:

Copper I/O:

(1) 14-pin 0.1 x 0.1 Male Header

Test Points on Board: For monitoring purposes.

Glass Fiber Connectors:

(8) ST Connectors (4) RX / (4) TX.

Power:

Supply Voltage: (4.75 - 5.25) VDC

Mechanical:

Size 6.45" x 3" x 0.55"

Weight: 2.6 oz (74g)

Mounting: (4) Mounting Holes
GSA Schedule:
This product is offered at a discount to city, state, and municipal government purchasers via GSA Schedule GS-25F-0286V.
Fiber Cables:
Click here to view more of ESL's Media Converters: /Search/?catid=135&category=Interface+Converters&filter=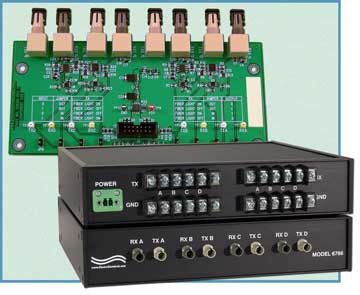 All data switches, fiber optic interface converters, data communication products, and data acquisition products are subject to a one year warranty against manufacturing defects. The limit of ESL liability is limited to the cost of the ESL product provided.

*Prices of Fiber Optic Converters online are subject to change and verification.
All ESL products are available for export.

Electro Standards welcomes International inquiries: Convertisseurs d'interface, Interfaz de Convertidores, Convertitori di interfaccia, Mediakonwertery, Conversores de Interface.