Cassette provides quick installation of MTP / MPO Fiber Optic Networks
Model 6006, Catalog No. 306006, MTP/MPO - SC, 12-Fiber Cassette, Multimode, 50/125 Micron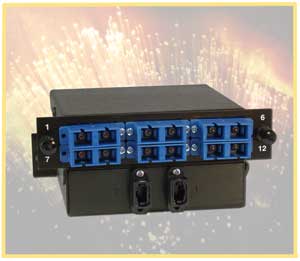 The Model 6006 high-density, pre-terminated Fiber Optic Cassette breaks out (1) 12-Fiber MTP / MPO male input to (12) SC male outputs (12 Simplex or 6 Duplex). This system offers the advantages of saving duct space and installation time. Up to three Model 6006 Fiber Optic Cassettes mount into a Model 3294 Rackmount Fiber Patch Enclosure.
The Model 6006 cassette's cabling side (rear) contains an MTP® interface for connecting the trunk or backbone cabling. An internal optical assembly within the cassette interconnects the rear and front ports. A speedy connection is established when the patch cords from the equipment are plugged into the front-panel SC connectors.
Features:
All ESL products are available for export.
*Prices online are subject to change and verification.