Cassette provides quick installation of MTP / MPO Fiber Optic Networks

Cassettes break-out 12-Fiber MPO cable inputs into standard LC connectors
Model 6012, Catalog No. 306012, MTP/MPO - LC, 24-Fiber Cassette, Multimode, 50/125 Micron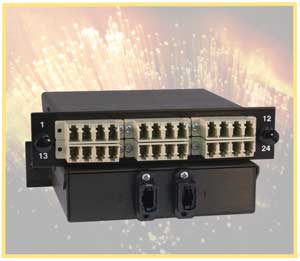 The Model 6012 high-density, pre-terminated Fiber Optic Cassette breaks out (2) 12-Fiber MTP / MPO male inputs to (24) LC male outputs (24 Simplex or 12 Duplex). This system offers the advantages of saving duct space and installation time. Up to three Model 6012 Fiber Optic Cassettes mount into a Model 3294 Rackmount Fiber Patch Enclosure.
The Model 6012 cassette's cabling side (rear) contains an MTP® interface for connecting the trunk or backbone cabling. An internal optical assembly within the cassette interconnects the rear and front ports. A speedy connection is established when the patch cords from the equipment are plugged into the front-panel LC connectors.
Model 6012 Features:
Two 12-Fiber MTP / MPO male inputs break-out to 24 LC male
outputs (24 Simplex or 12 Duplex).
Provides MTP/MPO Fiber Solutions
Electro Standards can supply all of your fiber optic cable requirements!
Model 6012 Specifications:
Dimensions: 5" W x 1.12" H x 5" D
Weight: Approximately 0.5 lbs.
Micron Size: 50/125
Mode: Multimode
Wiring Standard: Straight
Click here to get to our Fiber Optic Cable Categories Webpage:
All ESL products are available for export.
Prices online are subject to change and verification.