HP Versatile Link Plastic Core Fiber Optic Cables, MM, 30'
Ideal for Casino / Gaming VLT Network Applications
Ideal for Medical Applications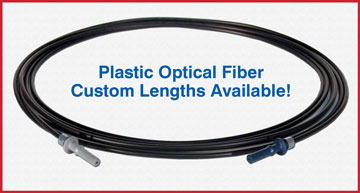 SIMPLEX, NON-LATCHING
VersaLink Plastic Optical Fiber (POF) Patch Cords feature the Versatile Link (VersaLink) connectors providing ready made solutions for rapid installations for any industrial or commercial application utilizing the Avago Technologies Versatile Link transceivers. Cables are available in standard and custom lengths. Although this specification refers to simplex non-latching patch cords, Versalink cables can be simplex or duplex cable featuring either latching or non-latching connectors.
The simplex cables are constructed with a single step-index plastic optical fiber sheathed in a black polyethylene jacket. The duplex cables are constructed with two step-index plastic optical fibers sheathed in a black polyethylene jacket.
FEATURES:
All patch cord is manufactured with 1mm diameter plastic optical fiber.

Compatible with Avago Versatile Link family of connectors and fiber optic components.

Direct replacement for Avago part number HFBR-EU550.

Simplex, non-latching connector.

UL-rated fiber cable and connections.

Connector terminations are crimped and epoxied for maximum retention.

Terminations are polished to a 1 µm finish to ensure high coupling efficiency.

Standard and custom lengths available.
APPLICATIONS:
Industrial data links for factory automation and plant control.

IntraSystem links (board-to-board, rack-to-rack)

Telecommunications switching systems

Computer-to-peripheral data links (PC bus extension)

Proprietary LANS

Digitized video

Medical instruments

High voltage isolation

Gaming Terminal Networks

For use with ESL Fiber/RS485 Converters,

(Model 4127, 4129)

For use with ESL Fiber/RS232 Converters,

(Model 4137, 4139)
Mechanical/Optical Characteristics, -40 to +85°C

Parameter
Min
Typ
Max
Unit
Cable Attenuation
0.15
0.22
0.27
db/m
Diameter, Core & Cladding
0.94
1.00
1.06
mm
Diameter, Jacket
2.13
2.20
2.27
mm
Propagation Delay Constant
--
5.0
--
ns/m
Cable Length Tolerance
-0
0
+3
in.
All ESL products are available for export.
*Prices online are subject to change and verification.