CellMite Model 4338 LVDT Digital Signal Conditioner Available with Two Different Software Packages
For Immediate Release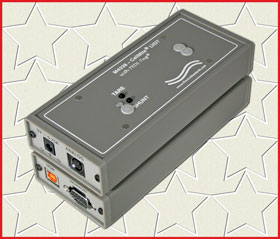 Electro Standards Laboratories, Cranston, RI, USA, announces the Model 4338 LVDT (Linear Variable Differential Transformer) AC excitation single channel intelligent digital signal conditioner with two software options. The new Model 4338 connects directly to a standard AC LVDT transducer and simultaneously generates a serial output for connection to a PC and a +/-10V analog output. The Model 4338 can be operated with a computer or simply setup by a computer and then used as a stand-alone intelligent LVDT digital signal conditioner with analog output.
The CellMite Model 4338 compensates for transducer nonlinearities using its integrated 6-point calibration capability not found in standard signal conditioners. Its USB port and simple command set allow for connection of multiple units in a serial network configuration. This compact unit is ideally suited for in-situ transducer conditioning and distributed process measurements.
The CellMite LVDT features nonvolatile memory for parameter and calibration storage. The user selects between 3 stored LVDT calibrations. Automatic LVDT identification is provided with ESL's TEDS-Tag technology. Multi-point and mV/V calibration, internal generation of precision sine wave AC excitation voltage, remote sense excitation, and 24-bit internal resolution with 16-bit analog output are standard.
The Model 4338 features 24-bit internal resolution. The input range is software adjustable from less than 10mV/V to greater than 100mV/V. The conversion rate is 60 per second. The unit offers pushbutton tare and shunt. The front panel features an LED status indicator. The compact unit is 6.5" x 2.75" x 1.5" (16.5 x 7.0 x 3.8 cm). It weighs approximately 1 lb (454 g). The unit comes complete with a power adapter, Catalog No. 512975. This table mount module is CE, RoHS and UL listed and provides 100VAC/240VAC, 50Hz/60Hz to 5VDC, 0.5A. The adapter has an IEC 60320 C14 inlet. This power adapter is ideal for international applications.
CellView Lite GUI Software, Catalog No. 514569, is one software option for the Model 4338. Combine the Model 4338 with CellView Lite and create a turnkey data acquisition system. This package allows the user to save data, calibration, and sensor test information to Excel spreadsheets. The software guides the user through the sensor calibration. The operator can set output with user-defined 5th order polynomial function. The Model 4338 and CellView Lite enables the user to setup a test to start and/or stop automatically.
The Model 4338 with CellView Multi-Display GUI Software, Catalog No. 514424, provides even more capability. This package provides a turnkey simultaneous data acquisition system for networked CellMite force digital signal conditioners and CellMite LVDT units. This system supports a mix and match of CellMite and CellMite LVDT units on the network. Model 4338 with CellView Multi-Display Software has the ability to define 8 simultaneous data displays from multiple channels on multiple units. The data, calibration, and sensor test information from all of the networked units can be saved to Excel.
For more information on our line of CellMite Intelligent Digital Signal Conditioners, call 401-943-1164; email: eslab@Ele

c

troStandards.com; Web:

www.ElectroStandards.com

.
Jeannette Gouin
Electro Standards Laboratories
36 Western Industrial Drive
Cranston, RI 02921
Tel.: 401-943-1164
Fax: 401-946-5790
Email: jeannett@lab.electrostandards.com